BdOSN Career Talk: "Career in ICT for Women in Bangladesh"
Bangladesh Open Source Network (BdOSN); a non-profit organization is working relentlessly to promote science and technology among the girls in Bangladesh. BdOSN has been organizing seminars, workshops, programming contest, boot camp, code sprint etc. throughout the country to popularize the technology among girls and female and engage them in the field of ICT. This time, they have organized "BdOSN Career Talk-Career in ICT for Women in Bangladesh" at Rajshahi University Central Library in association with Rajshahi University Central Library on February27th, 2017. A total number of 50 participants spontaneously participated in the seminar. One of the participants named Sadia Kabir Dina shared that 'this session had increased the level of her confidence significantly'. Another participant named Nusrat Jahan Nipa happily shared that 'the whole session was very inspiring. Attending this session motivated her to chase her own dream'.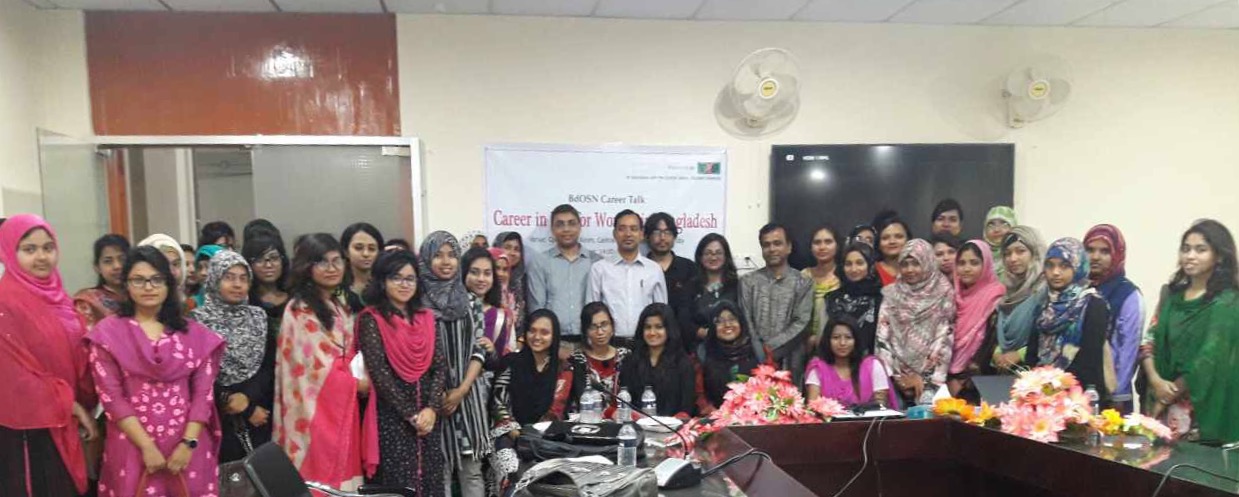 The objective of the seminar was to inspire the girls in Rajshahi to choose ICT or related sector as their career. Professor ShafiqunnabeeSamadi, Director of Central Library, Rajshahi University inaugurated the event with his introductory speech.Professor Md. Khademul Islam Molla, Department of Computer Science and Engineering, Director of ICT Center, University of Rajshahi attended the seminar as the chief guest and keynote speaker. Among other speakers, Mr. Zaved Parvez, Vice President, HR, RobiAxiata Limited& Founder President of Dreams for Tomorrow; Shaikh Jannatul Moushumy, Admin & HR Executive, raj IT Solutions Ltd and Mohammad Harun Or Rashid, Lecturer, Department of Humanities, RUET were present in the event.The whole program was coordinated and moderated by Kaniz Fatema, Head of Data & VAS, Rajshahi Circle, Grameenphone Limited and Coordinator, Girls in ICT of BdOSN.