Grace Hopper Girls Programming Training Camp now in Comilla!!!
Bangladesh Open Source Network (BdOSN) has been organizing ICT and computer programming camps in different districts in Bangladesh to inspire the girls in computer programming.
With its continuation of awareness building camps, BdOSN is going to organize Grace Hopper Girls Programming Training Camp in the University of Bangladesh Army International and Science and Technology in the Comilla cantonment. The 3-day long programming camp will start on the following 24th November and be continued to 26th of November. The participants will get an opportunity for a hands-on activity with the algorithm and other related topics in the computer programming in these days.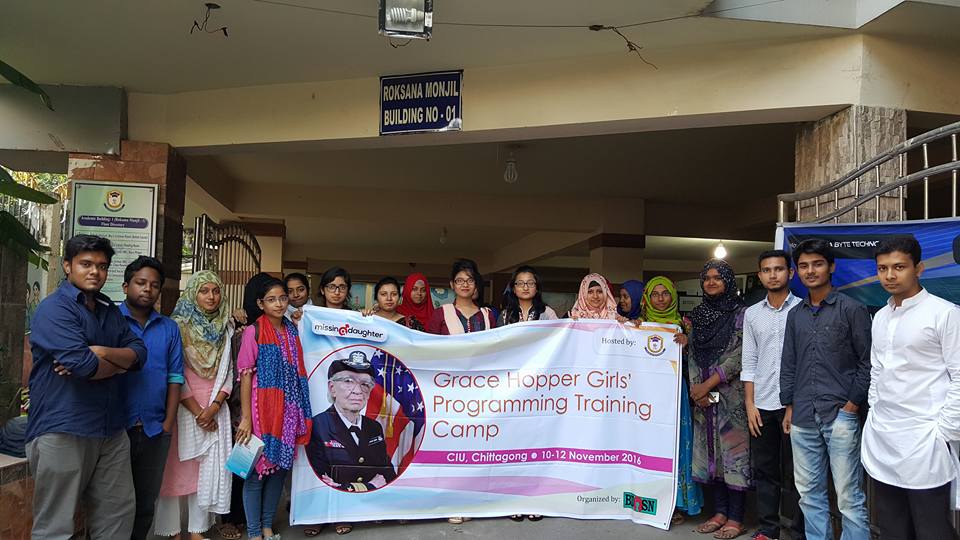 Grace Hopper Girls Programming Training Camp in CIU
Grace Hopper Girls Programming Training Camp is a program under #missingdaughter initiative. The aim of this initiative is to bring more girls in the technology and ICT field and support them to overcome the fear with programming. The continuous effort is helping the community to build a women-generated group in the programming contest nationally and internationally.
For example, in the ICPC of Dhaka site this year, 1666 girls teams have participated that was only 125 in the last year. Even the girls who just would attend the university programming classes now has come forward and started to break that chain.
BdOSN has a long vision to reach each and every girl from all over Bangladesh and support them to be in the ICT field as much as possible.
However, the interested people are requested to register for the camp in the link below: