CSO Summit Successfully Held at Dhaka Retro
Bangladesh Open Source Network (BdOSN) and 'চাকরি খুঁজব না চাকরি দেব jointly organized the first ever Chief Struggling Officer (CSO) Summit on 19th November at Dhaka Retro. The motive was so the invitee entrepreneurs from different levels share their challenges and major struggling points faced in life with the audiences. A total number of 50+ participants made the event effective and successful.


The audiences, including novice entrepreneurs, in-business entrepreneurs or would-be entrepreneurs got an insight from the points raised and shared by the invitees today at the event. All of them shared the bitter experiences they faced to start, run and expand their entrepreneurial journey.

Some very insightful points were common in almost all the speakers' stories shared today at the CSO Summit. These are:
Take decision quickly

Acquire relevant skills

Keep your words and commitment

Be honest in business exchange or transaction

Maintain your personal relationship to smoothly run your business

Focus! Focus! Focus!

Don't count achievement unless it's 10 years

The Founder and CEO of eCourier.com.bd shared how he is still trying to manage his family and convincing them that his initiative is much better than a traditional job life. He set strength on maintaining a balanced life that will be beneficial to smoothly run the business.

The Managing Director of FM Industries Limited Gazi Touhidur Rahman shared how he was betrayed by his partner and immediately turned his disappointments into forming this plastic industry that already raised funds from venture capital and within 5 years is set to be enlisted into IPO. He emphasized on the quality product, honesty and right human resource selection.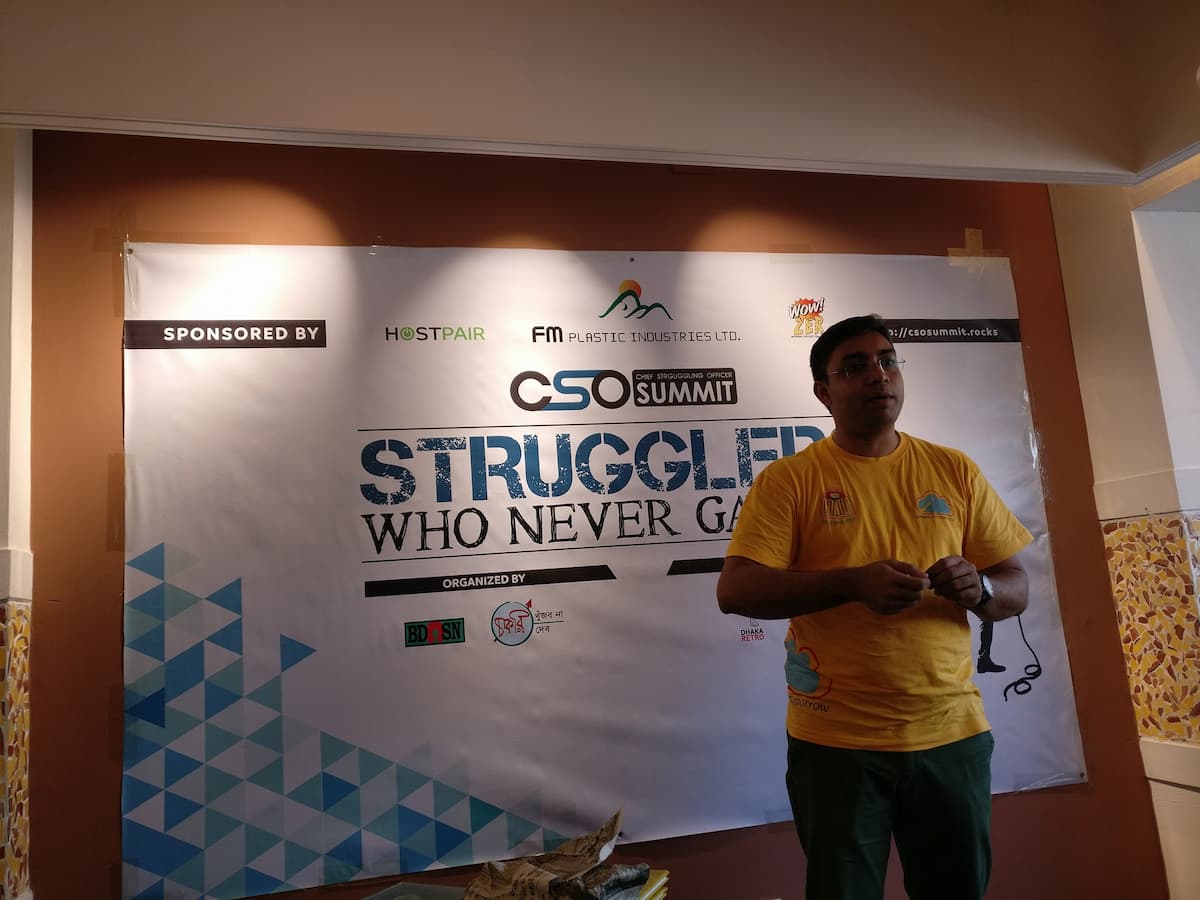 The Managing Director of BD Venture also was there and inspired the audiences with his struggles of maintaining the human resources in an organized way that brought him to pay for it.

Apart from them, there were Munir Hasan, General Secretary of BdOSN, Minhaz Anwar, the Chief Storyteller of BetterStories Limited and the Head of GP Accelerator; Milky Mahmud, founder of Shajgoj.com and some other significant speakers shared their stories at the today's event.

However, the audiences enjoyed the session and they admitted getting some very crucial points needed in their entrepreneurial life. Humaira Chowdhury said, 'She enjoyed the CSO Summit and wished for more such event in the days ahead".

The CSO Summit was sponsored by Hostpair, FM Plastic Industries Limited, Wow Zer, and partnered by Zero Degree Communication, Dhaka Retro and Targetiv.