Workshop on Artificial Intelligence Successfully Conducted
An interactive session has a strong interconnection with the participants' performance readiness that can enable them to be cheerful leading to an intrinsic thirst to learn. The room 206 of the United International University (UIU) was the reflection of such touch off interaction between the participants and the workshop facilitator. Around 60 participants from all over Bangladesh took part in the previously announced workshop on 'Artificial Intelligence' (AI) on 22nd October 2016 conducted by Dr. Ehsanul Hoque, assistant professor of Rochester University. The facilitator has recently been enlisted as "35 under 35" by MIT.
The participants were from a very diverse group of people, including students with different study background, university faculties, bankers, freelancers and researchers. This multi-professionals' presence has proven their interest to accept AI as a new challenge in their career.
The main perspective of the workshop was to explore and discuss the possible scopes and opportunities of AI in Bangladesh. Human Computer Interaction (HCI) and AI were the principle coverage of today's workshop. Mr. Hoque could stimulate the participants successfully that was manifested by their active participation throughout the session. They came up with some very interesting ideas of how AI can be utilized in real life from Bangladeshi perspective. For example, some expressed using AI to teach the importance of body language in language learning while another shared using it to improve the accent of Bangla for the radio jockey.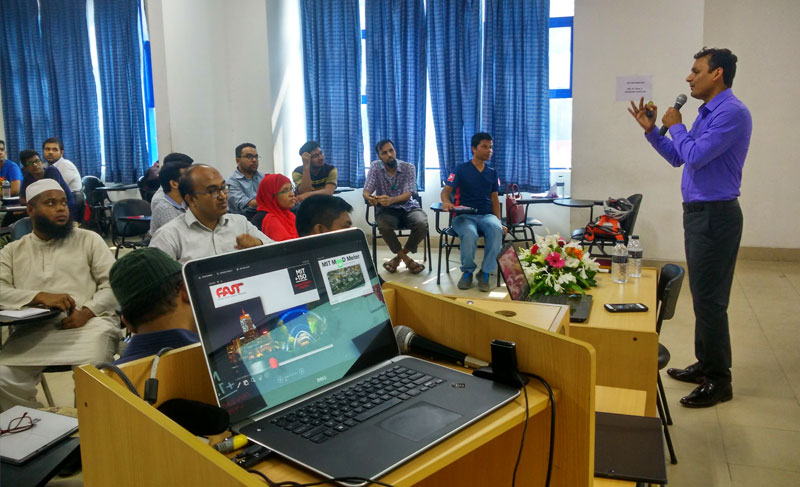 While touching up with many other areas, the facilitator mentioned and gave examples of some of the application like:
Speech recognition tool (<http://www.rockspeak.com/ that will guide you to be a good public presenter)

Automated Conversation Course (that works as a virtual assistant interviewer)

Mood meter (A machine that can identify a person's emotion)

Prosody Analysis

Head Noded and Shaked

Focused Feedback and
Being overwhelmed with the engagement of the workshop, Fardeem Munir a 11 grade student shared:
"It was very good. The speaker had a good grasp on AI and made the workshop really engaging. He taught us to ask good questions and figure out new ways to reuse stuff(data, technology) we already have to solve a plethora of problems. Some math and other technical discussion would have been nice, but I do realize that could be challenging for the diverse audience present today to understand. Overall, I am very impressed."
Miss. Samia, lecturer of UIU said "The facilitator had engaged every participant in such an organized way that made the workshop cheerful and enjoyable. Even students from different background enjoyed it fully."
Ashik Zaman, a student of CSE department from the University of Asia Pacific shared "Globally AI is a very demanding field now. I appreciate BdOSN for organizing such an informative workshop. I will be looking forward to more workshops to participate in."
The session ends with the facilitator's personal stories that seemed working as a motivation to many of the present especially to those who have been trying to reach to a particular goal but failed every time. However, the honorable Pro Vice Chancellor of UIU Professor Dr. Chowdhury Mofizur Rahman handed over the gift and crest to Dr. Ehsanul Hoque.